The repeater DB0SJ
The local club runs the Düsseldorf 70 cm repeater DB0SJ for years.
Technical details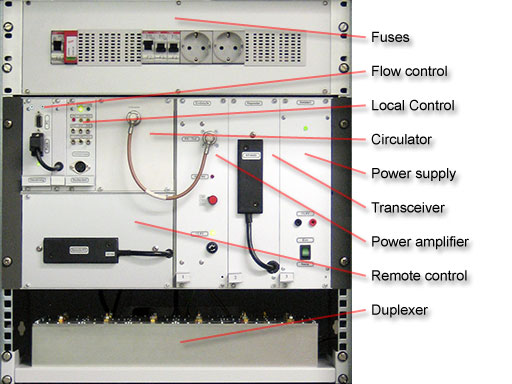 The repeater hardware in the 19" rack. (Photo: Dieter, DL6EZ)
Location:
The city of Düsseldorf, on top of the high-rise building of the Deutsche Rentenversicherung (DRV, German annuity assurance) at the south end of the street Königsallee, approx. 125 m over ground [map]
Frequency:

| | |
| --- | --- |
| Output: | 438.800 MHz (channel R76) |
| Input: | 431.200 MHz |

Bandwidth:
12.5 kHz
Transmission power:
15 watt ERP
Transceiver:
Bosch KF 454 D, full duplex
Transmitter power amplifier:
from Nokia MD59LS
Duplexer:
Huber und Suhner
Flow control:
by Hubert Gschwandtner, OE5GHN
Sub audio:
no sub audio tone (CTCSS)
Activating:
by carrier, no 1750 Hz tone needed
Remote control receiver:
Bosch KF164
Antenna:
2 m/70 cm duo-band vertical
Diamond VX30, without radials, double 5/8 lambda, 5.5 dBi
In southward, westward and northward direction, the repeater covers about 80 km, until into Belgium and the Netherlands. However, stations from the vicinity can dominant be heard. In eastward direction, the coverage bounds to 10-20 km, because Düsseldorf is located to the eastern border of the lower Rhine lowlands.
Listen again ...
Running costs
To run the repeater involves costs the local club has to pay for. Therefore, the local club is grateful for any donation. The easiest way for this is the DARC donation account with the subject "R01, [name-of-donator], DB0SJ". Thank you.
Repeater's person in charge
Andreas Buchwald, DC4AB
Friedrichstraße 4 · 40699 Erkrath
Telefon: +49-211-598 27 41
E-Mail: dc4ab@darc.de
History
The 70 cm repeater started beeing on air in 1975.
Prior person in charge
From the beginning until January 1987 Hans Nettersheim (DL8MV) was reponsible for DB0SJ, after this Helmut Wiesemann (DF7JV) took this task. In June 1993 the responsibility changed over to Burkhard John (DK5JG). From January 2007 Hans Dieter Böckenkamp (DL6EZ) was the responsible person for the opertation of the repeater. Since August 2016 Andreas Buchwald (DC4AB) stands at the licence certificate for DB0SJ.
Prior repeater hardware
Until November 2013 the commercial repeater transceiver ICOM IC-RP4020 was in use. By a requirement of the Federal Network Agency the bandwidth has to be changed to 12.5 kHz since this time. Because a modification would be very complex the ICOM radio was put out of operation.