Club station DL0DX of the local club R01 Düsseldorf
Our club station with the callsign DL0DX in the Heinrich Hertz vocational school, Redinghovenstraße 16 in 40225 Düsseldorf-Bilk is our meeting place to exchange of ideas and to radio. We see us on each Sunday from 11:00 am to 1:00 pm local time.
We always welcome guests. At exactly 11:00 am we enter the school building and lock the door of the main entrance behind us to start the ascent to the station together (by elevator or stairs). If you like to visit us, please be five minutes before 11:00 am on the main entrance of the vocational school, so you do not stand in front of a closed door.
While the station is manned, one FM transceiver is always running on 145.475 MHz (simplex) over which the station is reachable.
In addition, there are telephones on the club ststion with the following numbers:
• Cellular: +49-174-366 35 98
• Hamnet: 31 53 00 31 92 (DL0DX)
Calls only make sense while the station is manned (i.e., Sundays between 11:00 am and 1:00 pm).

Panorama photo of the club station on a Sunday in February 2020. (Photo: Andreas, DC4AB)
From DL0DX the local club also regularly takes part in amateur radio contests.
Location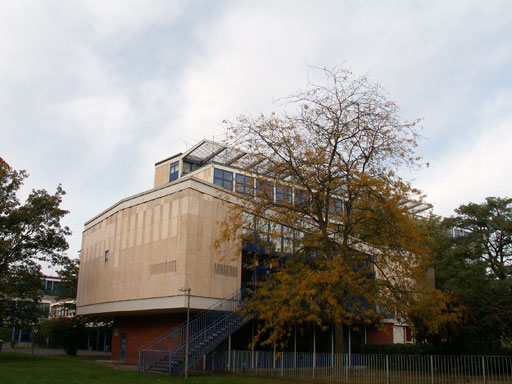 Heinrich Hertz vocational school in Düsseldorf. (Photo: Andreas, DC4AB)
The club station is at the top of the Heinrich Hertz vocational school, Redinghovenstraße 16 in 40225 Düsseldorf-Bilk.
The club room is in the sixth floor, to reach with an elevator (until the fifth floor) or over stairs with 146 stages.
Responsible person / postal address
Dietrich Arends, DL2GK
Am Falder 123 · 40589 Düsseldorf
Telephone: +49-211-75 31 31
E-Mail: dl2gk@darc.de
Directions
Club station DL0DX
Redinghovenstraße 16 · 40225 Düsseldorf
How to get there by car
The club station is easy to reach by car. On Sundays there are enough free parking spaces on the street.
How to get there by public transport
From the nearest railway station "Redinghovenstraße" it is about 200 meters walk, which can be done in about three minutes. There the line 706 stops.
From the nearby railway stop "Auf'm Hennekamp" it is about 650 meters walk, for which one is already about eight minutes on the road. There, the lines U71, U73, 704 and 706 hold.
From the nearest S-Bahn stop "Volksgarten" it is about 750 meters and about nine minutes on foot. There, the lines S1 and S6 hold (and again the 706).
From the S-Bahn stop "Bilk" it is already 1400 meters and about eighteen minutes walk. The lines S8, S11 and S28 (and the lines U71, U72 and U73) hold there.
The easiest way is to consult the VRR web page.